Location – How to get there
Address
Academic Medical Center (AMC)
Meibergdreef 9
1105 AZ Amsterdam
Transportation
Public transport in Amsterdam city center provides metro, tram and bus services. You can buy an Amsterdam transport OV-chipcard from a machine at places like metro stations or shops. It is required to check in and out for each ride with these chipcards. For more information, please visit www.amsterdam.info.
For up-to-date route information, please visit www.ns.nl or www.9292.nl.
For taxi transportation you can contact the Taxi Centrale Amsterdam on +31 (0) 20 777 7777 or use Uber.
How to reach the AMC by public transport
Metro: disembark at metro terminal Holendrecht (direction Gein; see the metro map)
54 from Amsterdam Central Station (via terminals Amstel and Bijlmer Arena)
50 from Isolatorweg (via terminals Amsterdam Zuid, RAI and Bijlmer Arena)
Train: disembark at NS train station Holendrecht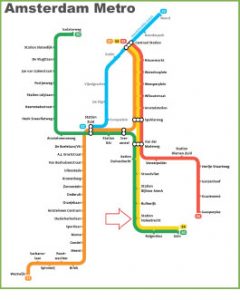 Parking
The parking areas around the AMC are numbered. The P1 is intended for patients visiting the outpatient clinic. The P2 area is open to visitors from Monday to Friday. As you drive into the AMC grounds, follow the directions P1 or P2. If the P1 area is full, you will be redirected to P2. The hospital, outpatient clinic and AMC Day Centre are all signposted. Car park areas P3 to P6 are for AMC staff only.
Parking ticket and payment Parking is charged at a basic rate of €3 for the first three hours. The parking rate after that is €0.50 per half hour. Please take your parking ticket with you as you leave your car. Ticket machines are situated at the various exits.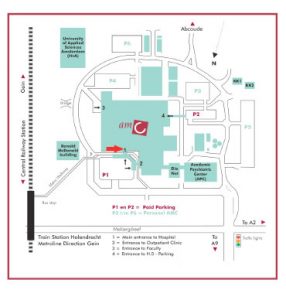 Lecture Hall (Symposium  7 – 8 June 2018)
At arrival exit  the train / metro station Holendrecht on the right side and follow the walkway to the main entrance. Follow the sign to the lecture hall number 4 (building G-0, ground floor).
Cadaver Dissection Course (9 June 2018)
From the main entrance follow the signs to the lounge area at building D-2 (in front of room 423). From 8:00 am coffee and thee will be served. At 8:30 we will walk to the dissection hall (building J-0).
Registration
Registration will be at the desk in front of lecture hall number 4.
Nearest airport: Amsterdam Schiphol
Nearest train station: Amsterdam Holendrecht station